Sofia's Truth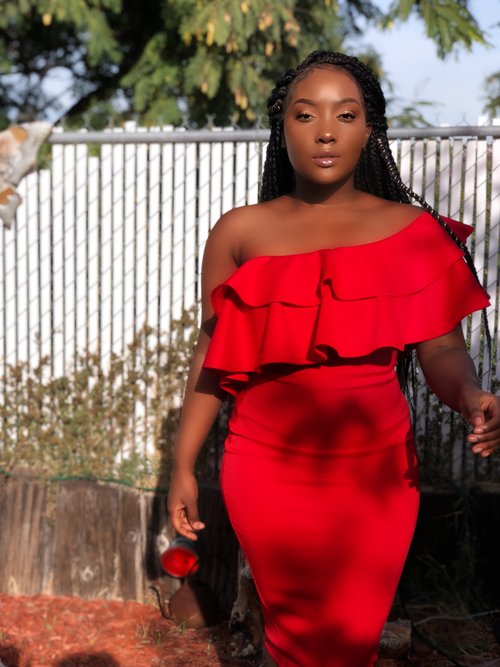 Tell me about yourself.
Sofia: My name is Sofia Mupfawa, I'm originally from Zimbabwe but I was born and raised in California, and I'm a Fashion+Beauty+ & Lifestyle Blogger.
What is your side hustle?
Sofia: I started blogging about a year ago, but I began planning and brainstorming 2 years ago around the time I lost my grandfather. I needed something to distract myself because I had just started online schooling. I wanted to be myself and do things I liked. At the time my Instagram had just started getting popping, but I didn't have enough money to launch a Youtube channel so I launched my blog. It changed my life and has truly been a blessing.
What are your beauty struggles?
Sofia: My skin is so sensitive. I have to keep my skincare routine to a minimum of 2 products. I tend to react to some of the products that fail to meet my skin care needs, like my eyes may get a little puffy or I may experience a rash of some sort. I would love to try some of the cool products that everyone is using, but I can't because my skin reacts badly. I struggle to find beauty products that work long term. Actually, a few months ago, I posted products that I really liked, but they only worked for like 2 months. I like products that stand the test of time. I don't have any go-to products. I also struggle finding edge controls and products to grow my hair.
What does beauty mean to you?
Sofia: Beauty means confidence, self-love, strength, peace, and freedom. To me, beauty is not outward appearance. Beauty starts on the inside. You have to groom and nurture it. Beauty is mainly confidence. It doesn't come in one day! You have to continually cultivate it, spiritually and mentally from the inside out. When you cultivate confidence it shows on the outside and that's when people will start saying things like "you are glowing". Self-love was the journey that led me closer to God. During my journey, I started blogging and it allowed me to learn about what I really liked and disliked about myself. I made a conscious decision to change my life around and focus on things that matter, focus on where God wanted me to be. Self-love helped me find my purpose in life.
What's the best piece of advice you have ever received?
Sofia: I have a lot of aunts and an amazing mom and big sister. All of them really showed me that it is important to be yourself. Don't compare your skin color to people of the opposite race; focus on elevating yourself and growing yourself to be powerful especially as a person of color.
What is your favorite beauty hack?
Sofia: I know how to look good without breaking the bank. I do my hair on my own. I've been doing it for like 4 years now. Being independent allowed me to learn things on my own. I know how to SLAAAAYY a wig part! Some of my aunts came over for the holidays and I snatched all their wigs! I've also gotten into doing press on nails. I haven't gotten my nails done in like 2 years. I've recently learned how to do the cornstarch acrylic method.
What is your self-care routine?
Sofia: Having me time allows me to relax and gather my thoughts. I love skincare and watching Youtube videos. I also love listening to music, singing, reading, blogging, and spending time with mom. My favorite song right now is Be Still by Travis Greene or any song by H.E.R!
Keep up with Sofia on her journey:
Instagram: @sofieonfleek
Blog: https://sofieonfleek.wixsite.com/sofie
Snapchat: alwayss_sofie
Twitter: @sofieonfleek