Esther-Lauren's Truth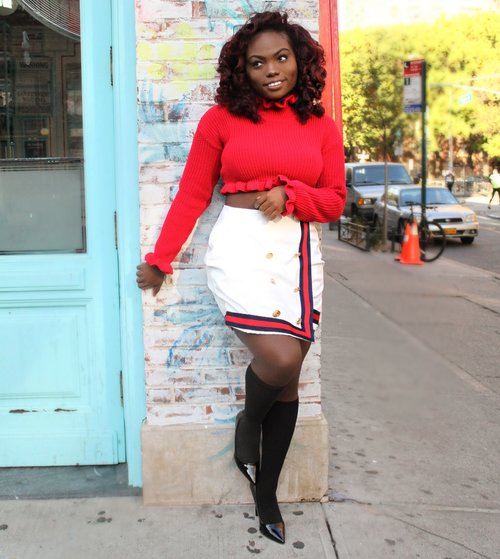 Tell me about yourself.
Esther-Lauren: My name is Esther-Lauren. I was born in France and grew up in a house of immigrants. My parents always told me I had to be a lawyer or a doctor so I always felt like the black sheep of my family because I wanted to pursue fashion and beauty. I launched a Youtube channel off of my iPhone because my friends kept asking me where I get my clothes. People urged me to make a website because they liked my style and wanted me to help them develop their style. Starting a business is hard. I got really discouraged after a while because I didn't get any support from my family so I quit Youtube and pursued nursing school.
What is your side hustle?
Esther-Lauren: Since I'm in nursing school, I'm not really around fashion bloggers or entrepreneurs so I always feel out of place or "overdressed". I missed talking about fashion and beauty so I relaunched my Youtube channel with a video about being a dark-skinned woman (https://www.youtube.com/watch?time_continue=2&v=8aEWAsSHcc0). I received so much love and support from my subscribers. It made me realize that my voice and perspective could make an impact. I am also a personal stylist. I was booked for the whole month of November and December. For the month of January, I'm booked for style consultations. I love photography and event planning because I am good at color blocking. Blogging is expensive, so sometimes I have to pick up small side jobs.
What are your beauty struggles?
Esther-Lauren: I have to go out of my way to find hairdressers and products for 4c hair. I rarely find Youtubers or celebrities with a similar hair texture that I can look to as my hair inspiration. My hair is super dry so most hair products do not work for me. I am also very dark-skinned so finding foundation that matches my shade is so difficult. I go to a lot of events and when my pictures go up on the events page, the flash makes my skin look ashy. I am usually the last shade that is offered by most makeup brands so when summertime comes around and I get darker, there are NO foundation options for me. There are a couple of high end brands that cater to darker skinned women, but affordable darker skinned foundations are almost non-existent. Being a dark skinned woman is very hard. I am so grateful for the melanin movement, but people are not as welcoming in person as they are on social media. People fetishize black women on social media, but disrespect them in real life. Guys still say things like I don't like dark skinned women. Social media is not a depiction of the real world. Colorism is still very real.
What does beauty mean to you?
Esther-Lauren: Beauty means freedom. It means self-love and self-love is freedom. Beauty is not being concerned with other people's opinions of you. I love myself and how I look no matter what people think!
Do you think beauty is political for women of color?
Esther-Lauren: Yes, beauty is political. It goes far beyond beauty. Women of color aren't included in certain spaces. It makes us feel like we don't matter. Beauty is a medium that people use to get ahead in the world. If you don't have a certain look some people won't even take the time to talk to you or include you.
What is your self-care routine?
Esther-Lauren: I love watching TED talks by black women. I'm easily inspired by women of color that are successful. I watch videos on Youtube and Instagram of women of color doing awesome things. It keeps me going because if they can do it, I can do it as well! I also love listening to trap music. My favorite song right now is Bartier Cardi by Cardi B.
As a woman of color, what do you want the beauty industry to know?
Esther-Lauren: The beauty industry should know that we aren't all the same. They need to stop using 2 people to speak for the whole community. They choose one girl and she is supposed to be the spokesperson for all of us. Women of color deserve more makeup shades. We all look different. Fenty Beauty shook the whole beauty industry because she included everyone and made them feel beautiful.
Keep up with Esther-Lauren on her journey:
Instagram: @_estherlauren
Twitter: @_estherlauren
Website/Blog: www.estherlauren.com
Youtube: Esther Lauren